Trip Planning for Bridgers
as of 5:00 am
| | |
| --- | --- |
| Today | 0″ | 15-40 W |
| Jan 17 | 0″ | 29-40 W |
| Jan 16 | 0″ | 20-50 W |
Bottom Line:
The snowpack across the advisory area is generally stable and the expected snow won't be enough weight to change this. However, new snow will likely bury a feathery layer of weak surface hoar that will be our new layer of concern until proven otherwise. Human-triggered avalanches are unlikely to break deeper than the 1-2" of snow falling today. Test the snowpack, assess for isolated instability and employ safe travel practices if you chose to enter avalanche terrain.
Past 5 Days
Fri Jan 14

Low
Sat Jan 15

Low
Sun Jan 16

Low
Mon Jan 17

Low
Today

Low
Northern Madison
Beehive Basin
Skier triggered cornice beehive basin

Beehive Basin
SS-NCu-R3-D2-O
Elevation: 9,300
Aspect: E
Coordinates: 45.3379, -111.3990
Caught: 0 ; Buried: 0
From email 1/9/21: "Skier triggered cornice failure avalanche. Broke at skis 10-12 feet from the lip. No one caught or injured."
More Avalanche Details
Bridger Range
BRIDGER RANGE
Small natural and skier triggered storm slabs in Bridgers

BRIDGER RANGE
SS-N-R1-D1-I
Coordinates: 45.8512, -110.9480
Caught: 0 ; Buried: 0
Skiers in the northern Bridger Range and on the west side reported several natural and skier triggered slides breaking on the interface between the new and old snow. These slides were shallow and small.
More Avalanche Details
Bridger Range
Bradley Meadow
Avalanche north of Bridger, Peter's point

Bradley Meadow
SS
Elevation: 8,000
Aspect: NE
Coordinates: 45.8322, -110.9280
Caught: 0 ; Buried: 0
While skinning towards the ramp we witnessed what looked like a natural slide that started right around Pete's Pinnacle which ran down along the boundary line about 1000 feet. Unknown trigger.
More Avalanche Details
Select a snowpit on the map to view the profile image
Weather Forecast Bridgers
Extended Forecast for
10 Miles NNE Bozeman MT
Winter Weather Advisory until January 19, 11:00am
Click here for hazard details and duration
 

Winter Weather Advisory until January 19, 11:00am

NOW until
11:00am Wed

Winter Weather Advisory

Tonight



Snow

Low: 13 °F

Wednesday



Chance Snow
then Mostly
Cloudy

High: 26 °F

Wednesday
Night

Partly Cloudy

Low: 16 °F

Thursday



Snow Likely

High: 30 °F

Thursday
Night

Snow

Low: 24 °F

Friday



Snow then
Chance Snow

High: 29 °F

Friday
Night

Mostly Cloudy

Low: 16 °F

Saturday



Mostly Sunny

High: 30 °F
The Last Word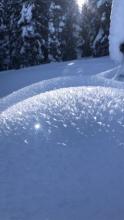 As we wait for the next dump of snow, now is an excellent time to practice avalanche rescue. Are you fast and efficient with your beacon? Is your partner? Even the sharpest knife needs an occasional tune. Check out this BCA video to hone your skills.