Trip Planning for Northern Madison
as of 5:00 am
| | |
| --- | --- |
| Today | 1″ | 25-50 W |
| Dec 3 | 3″ | 25-61 W |
| Dec 2 | 8″ | 15-35 SW |
9400′ 12/04 at 13:00
28 ℉
W - 22

mph, Gusts

34
0 "

New
Bottom Line:
In the last 4 days the mountains around Bozeman received around 5" of snow with the Big Sky area and southern Madison and southern Gallatin Ranges getting 12-15". This snow was blown into wind slabs that overlay weaker, faceted snow found at higher elevations (around 9,000'). The snowpack is thin and avalanche risk will likely be confined to wind drifted gullies or bowls. Ice climbers need to be careful of triggering small pockets of drifted snow. Skiers should heed the sage advice, "It's there's enough snow to ski, there's enough snow to avalanche".
Past 5 Days
Thu Nov 23

None
Fri Nov 24

None
Fri Dec 1

None
Sun Dec 3

None
Today

None
WebCams

8800' Camera, Lone Peak view
Yellowstone Club, Timberline Chair
Select a snowpit on the map to view the profile image
Weather Forecast Northern Madison
5 Miles NNW Big Sky MT
This
Afternoon

Mostly Cloudy
and Breezy

High: 28 °F

Tonight



Mostly Cloudy
and Breezy

Low: 22 °F⇑

Tuesday



Partly Sunny
and Breezy

High: 33 °F

Tuesday
Night

Mostly Cloudy

Low: 26 °F

Wednesday



Partly Sunny
and Breezy

High: 34 °F

Wednesday
Night

Heavy Snow
and Breezy

Low: 22 °F

Thursday



Snow

High: 24 °F

Thursday
Night

Snow Likely

Low: 13 °F

Friday



Snow Likely

High: 16 °F
The Last Word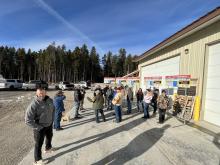 We travel with a lot of electronics that could interfere with our avalanche transceiver, both as a victim and as a rescuer. Check out our article on Electronic Warfare to learn what to do.